---
1000mg Hemp Tincture AM PLUS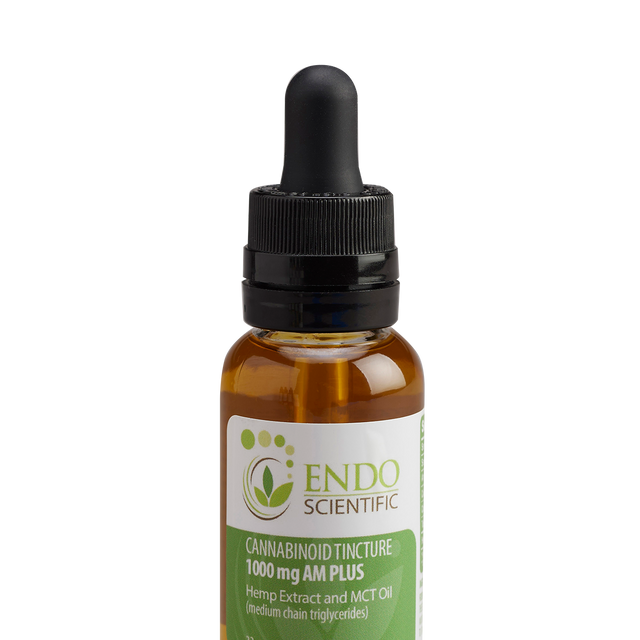 If our full-spectrum hemp tinctures aren't providing you with enough relief and you don't want the sedative and high feelings that come with THC, then we have the perfect solution. Raw cannabinoids!
Our AM tinctures are specifically crafted to be high in acidic cannabinoids or raw cannabinoids that enhance your energy levels and focus. Scientists have discovered that acid-form cannabinoids can actually be more effective than neutral cannabinoids at enhancing your mental and physical health. 
If you're looking for a product that will increase your energy in the morning then you need to get serious about increasing your consumption of acid form or raw cannabinoids. Endo's AM Plus tincture provides the energy you need to get through the day and the highly concentrated acid cannabinoids are super antioxidants that are superior to their neutral cannabinoids. If your daily routine is making you feel like a zombie then we urge you to try our ultra-strength acid cannabinoid tinctures. 
Can CBD Improve Energy Levels?
Yes, but indirectly. People try CBD for a wide variety of reasons and many of these reasons play a role in energy production and focus. Chronic conditions such as body inflammation, lack of sleep, anxiety, and stress can all directly impact our energy levels. The big two are stress and anxiety, both of these mental health issues drain our batteries and lower our energy levels. Conquer your hellscape and increase your energy with full-spectrum hemp oil.
What are acidic cannabinoids? 
Many of our customers are simply trying to wrap their minds around the benefits of CBD, but there are hundreds of different cannabinoids that are found in hemp flowers. Acid cannabinoids are how cannabinoids are produced in their raw or unheated forms. Freshly cut hemp flowers tend to have higher concentrations of acidic cannabinoids and as they age the acidic cannabinoids turn into their more common neutral cannabinoids.
CBDa Benefits
Our happy customers have found that CBDa provides more relief and is more effective than CBD. 
In the hemp industry, CBD gets all the buzz, but at Endo Scientific, we also should recognize the value of CBD's acid precursor CBDa and CBGa. CBDa's precursor is the mother cannabinoid CBGa and both raw cannabinoids provide extra strength relief. In certain circumstances, CBDa and other acid form cannabinoids are believed to be more effective and customers have reported taking smaller doses of raw cannabinoids. More specifically, CBDa has been reported to be better for dealing with stress and anxiety and one study found that it has 100x the binding properties to the serotonin receptor 5-HT when compared to CBD. Other studies suggest acid cannabinoids have superior antimicrobial properties. Raw cannabinoids provide the ultimate relief for dealing with daily discomforts.
Why We're Different
Many companies will market AM or energy products by simply adding flavoring or complementary supplements to the same hemp oil extract, but at Endo Scientific, we've discovered that full-spectrum oils containing 20%+ or more of acid-based cannabinoids can pack an extra punch. We have developed proprietary genetics and cold processing techniques that have allowed our company to become the leader in producing full-spectrum oils that are rich in raw cannabinoids. We specialize in producing products that contain the full spectrum of cannabinoids, including acidic, neutral, variable degraded, and oxidative compounds. 
Disclaimer
: STORE IN A COOL, DRY PLACE AWAY FROM DIRECT SUNLIGHT. NOT TO BE USED DURING PREGNANCY OR LACTATION. IF YOU HAVE A MEDICAL CONDITION OR TAKE PHARMACEUTICAL DRUGS, PLEASE CONSULT YOUR PHYSICIAN BEFORE USE. KEEP OUT OF THE REACH OF CHILDREN. OUR PRODUCTS AND STATEMENTS HAVE NOT BEEN REVIEWED BY FDA AND PRODUCTS ARE NOT INTENDED TO CURE OR TREAT DISEASES. PRODUCT REVIEWS ARE PROVIDED FOR TRANSPARENCY, EDUCATIONAL, AND INFORMATIONAL PURPOSES ONLY. THE INFORMATION OR OPINIONS EXPRESSED THEREIN ARE SOLELY THOSE OF THE CONTRIBUTORS AND DO NOT NECESSARILY REPRESENT THOSE OF ENDO SCIENTIFIC OR ITS EMPLOYEES. DO NOT APPLY OVER OPEN WOUNDS.