---
Kelp Face Mask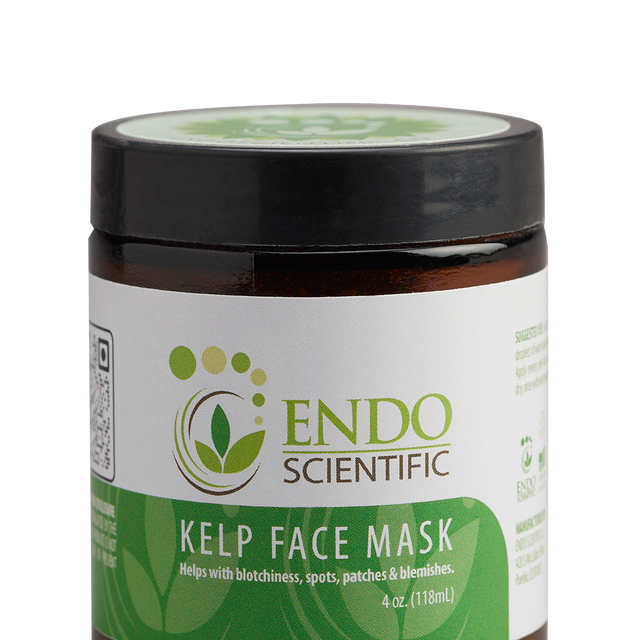 If you're looking for the fountain of youth you may want to start looking in the ocean! Marine extracts have been used for medical and beautification purposes for centuries and in recent years there has been a resurgence in the healing properties of seaweeds. Our kelp face mask can enhance the appearance of your skin while promoting the production of sustainable ocean resources. 
The ocean is the last great frontier on planet Earth and the nutrient-rich oceans provide fertile opportunities for cultivating nutrient-rich superfoods and raw materials. Kelp is a superfood that is great to eat in its raw form, is an amazing supplement to prevent mineral deficiencies, and can give your skin that healthy glow that you are looking for. Kelp is even used for biomedical wound care products as primary dressings. Historical evidence suggests that humans were using seaweed to treat wounds during the Roman era and modern science and R&D have taken it to a new level. Scientists are currently developing kelp biomedical products that will be used in the field of tissue engineering and transporting stem cells. If it's good enough for the scientists and doctors we figured our customers may want to get in on the action.
Cultivating kelp in the ocean can also be a commercial process that works with nature as opposed to against it. Kelp forests increase the biodiversity of ocean environments and provide safety to wild otters and other animals. Kelp is typically grown in cold nutrient-rich waters and is abundant in the Antarctic Ocean. Kelp fields have been dubbed 'underwater forests' that are teaming with wildlife. 
The ocean gives us sea salt, mineral muds, marine extracts, and kelp (algae) face masks. We know some of our visitors may be a little turned off when it comes to slathering algae all over their faces, but algae can be the gamechanger you need to reduce blotchiness, face inflammation, and blemishes. Whether it be land weeds or seaweeds, weeds provide amazing healing properties. 
How to use: Our kelp mask comes in powder form. To start the user should put about a tablespoon of powder in the palm of their hand and lightly sprinkle a few drops of water onto the powder to create the desired consistency. Once wet the mask should be applied to skin and can be left for 10-30 minutes. Once complete, wash your face with a gentle cloth. A pro tip is to use full-spectrum hemp oil, apple cider vinegar or witch hazel in replace of water. 
The Result: Happy and hydrated skin that is soft and youthful. 
Kelp Skin Benefits: 
Relieves dry or flaky skin patches. One of the leading causes of excessively dry skin is a lack of iodine and insufficient thyroid hormone production. Kelp is a great source of natural iodine. 

Removes toxins.

Soothes angry skin.

Protects skin from environmental damage. 
The first step to healthy skin is a healthier diet and we urge our customers to not only try our kelp face mask but look into the wellness benefits of consuming kelp orally. Kelp is packed with nutrients and the first signs of nutrient deficiencies often show up in our skin. Get healthy and fight your skin inflammation on all fronts. 
Disclaimer
: STORE IN A COOL, DRY PLACE AWAY FROM DIRECT SUNLIGHT. NOT TO BE USED DURING PREGNANCY OR LACTATION. IF YOU HAVE A MEDICAL CONDITION OR TAKE PHARMACEUTICAL DRUGS, PLEASE CONSULT YOUR PHYSICIAN BEFORE USE. KEEP OUT OF THE REACH OF CHILDREN. OUR PRODUCTS AND STATEMENTS HAVE NOT BEEN REVIEWED BY FDA AND PRODUCTS ARE NOT INTENDED TO CURE OR TREAT DISEASES. PRODUCT REVIEWS ARE PROVIDED FOR TRANSPARENCY, EDUCATIONAL, AND INFORMATIONAL PURPOSES ONLY. THE INFORMATION OR OPINIONS EXPRESSED THEREIN ARE SOLELY THOSE OF THE CONTRIBUTORS AND DO NOT NECESSARILY REPRESENT THOSE OF ENDO SCIENTIFIC OR ITS EMPLOYEES. DO NOT APPLY OVER OPEN WOUNDS.