---
Hemp Full Spectrum Lotion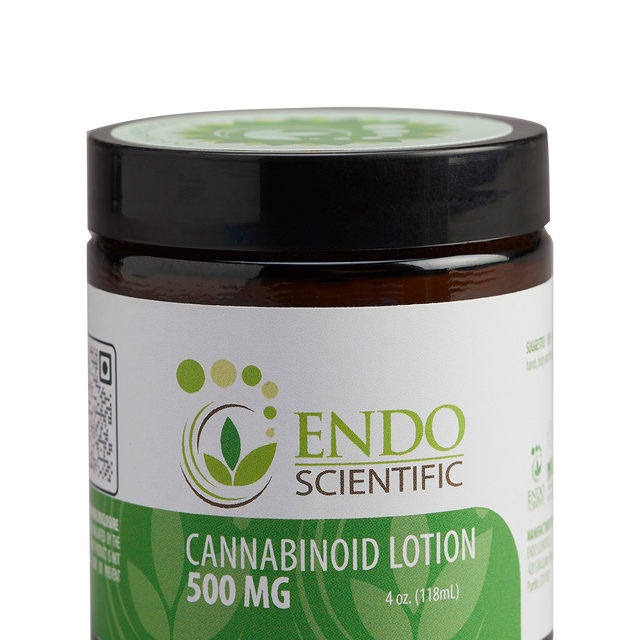 Dry and itchy skin often triggers anxiety & stress situations. At Endo Scientific, our body lotion was specifically formulated to nip dry and itchy skin in the bud. We moisturize and hydrate better than the rest and we're a body lotion that can be used for all skin types. All of our lotions and creams provide advanced protection without the greasy or tacky feeling. 
Why We're Better
CBD has become a super-popular ingredient in the skincare world and the science is there to back it up. Brands are offering trending luxury lines, but the reality is that most of these CBD products are leaving customers wanting more. There are countless CBD lotions on the market, but we're one of the few companies that grow, process, and manufacture our own products. 
There is no private label manufacturer for us. We conducted R&D on our genetics, perfected our biodynamic farming philosophy and all of our products are made in-house using small batch production techniques. Small batch production allows our team to use higher quality natural ingredients and formulate our products with time-sensitive ingredients. After becoming a customer you will be able to feel the difference between our handcrafted products v.s. the mass-produced junk. 
Endo's signature lotion has the same great ingredients that our cream contains, but it isn't as thick and absorbs quickly into the skin. Our proprietary full-spectrum hemp oils are complemented with natural moisturizers that include shea butter, sunflower oil, and hemp lipids. These oils work together to provide essential skin protection that locks in moisture and prevents water loss.  Our lotions and creams have been specifically formulated to minimize the risks associated with sensitive skin and allergic reactions. 
Our lotions are light, absorb quickly, have a faint natural smell, and are great for summertime after suncare. If you're looking for something that is thicker that is great for a dryer environment we suggest checking out our cream. Our creams are thicker and contain a higher percentage of natural moisturizers and come in both 500 mg and 1,000 mg versions.
The first step to healthy skin is a healthier diet and we urge our customers to not only try our lotions, creams, salves, and facemasks but to look into the wellness benefits of eating a diet rich in whole foods and full-spectrum supplements. The number one cause of excessive drying of skin is not the environment, but vitamin, mineral, and essential fatty acid deficiency. When we are deficient in any of these compounds it becomes difficult to keep our cells hydrated and premature aging sets in. Our full-spectrum hemp products, kelp capsules, and bentonite clay supplements are great ways to heal your skin from within. Excessive stress and anxiety are also directly connected to inflamed skin conditions. Get healthy and fight your skin inflammation on all fronts. 
Benefits:
Itch relief

Hydrate dry skin

Tame inflammation

Daily discomfort

Post-workout recovery

Menstrual cramps
How to Use: Dip one or two fingers into the lotion and liberally apply to the desired location. Lotion can be applied 2 to 3 times per day to the desired location. If you're looking for more relief or more hydration check out our 1000 mg cream. 
Ingredients: Water, Glycerol Stearate, Cetearyl Alcohol & Ceteareth 20, Isopropyl Myristate, Caprylic/Capric Glycerides, Dimethicone, Stearyl Alcohol, Soybean Oil, Shea Butter, Phenoxyethanol, Sunflower Oil, Hydrolyzed Silk, Aloe Barbadensis Leaf Juice, Triisopropanolamine, Iodopropynyl Butylcarbamate, Full Spectrum Hemp Extract, Hemp Lipids, MCT Oil.
Disclaimer: STORE IN A COOL, DRY PLACE AWAY FROM DIRECT SUNLIGHT. NOT TO BE USED DURING PREGNANCY OR LACTATION. IF YOU HAVE A MEDICAL CONDITION OR TAKE PHARMACEUTICAL DRUGS, PLEASE CONSULT YOUR PHYSICIAN BEFORE USE. KEEP OUT OF THE REACH OF CHILDREN. OUR PRODUCTS AND STATEMENTS HAVE NOT BEEN REVIEWED BY FDA AND PRODUCTS ARE NOT INTENDED TO CURE OR TREAT DISEASES. PRODUCT REVIEWS ARE PROVIDED FOR TRANSPARENCY, EDUCATIONAL, AND INFORMATIONAL PURPOSES ONLY. THE INFORMATION OR OPINIONS EXPRESSED THEREIN ARE SOLELY THOSE OF THE CONTRIBUTORS AND DO NOT NECESSARILY REPRESENT THOSE OF ENDO SCIENTIFIC OR ITS EMPLOYEES. DO NOT APPLY OVER OPEN WOUNDS.